Corgis are forever popular in Texas, they're basically the state mascot. They're short, sassy, and have a personality as big as the state itself!
If you are nearby, or live in Texas, then we've got the best breeders around for you to consider when searching for the perfect Corgi pup.
All breeders on the list below have been in the business for a long time, have great track records, and are trusted responsible breeders.
At the very end we include the most important questions buyers must ask the breeder! This is crucial so it's worth checking.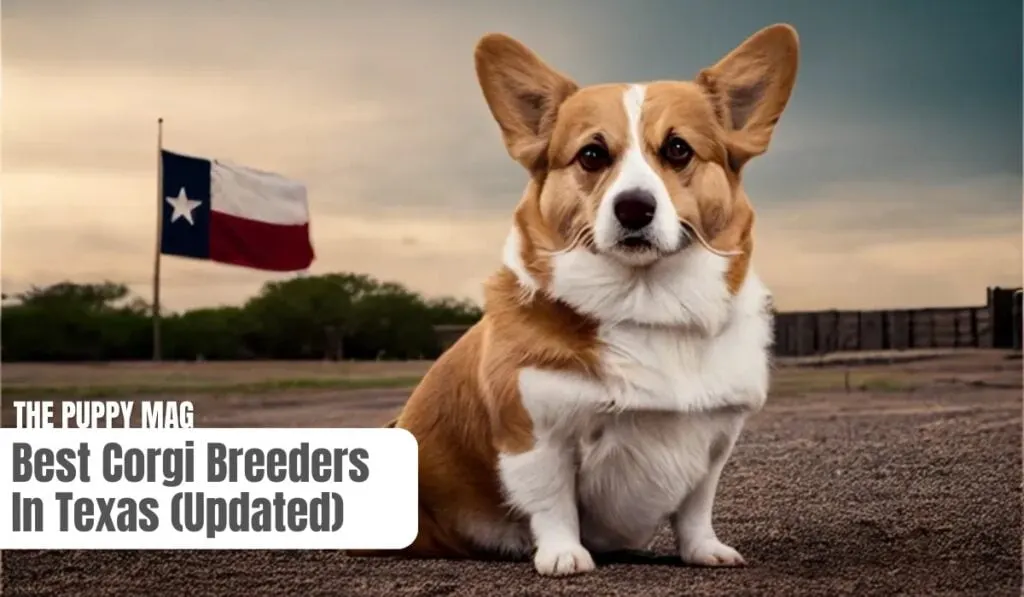 1. Corgi Connection of Central Texas
Corgi connection of Central Texas has been passionately breeding Corgis for over 7 years and has available puppies regularly.
After serving almost a decade in the military, their love of animals took over and have now been raising Corgis along with many other animals.
They pride themselves on being side by side with their pups from the day they're born to the day they leave, and even then will keep in constant contact to ensure everything is going okay.
Corgi pups are socialized and allowed to spread their wings in a safe fenced yard around their property.
2. Arm n' a Leg Ranch
Arm n' a Leg Ranch has been a provider of quality puppies since 2002. The breeds currently offered include Pembroke Welsh Corgis, Cardigan Welsh Corgis, and American Corgis. All puppies from ArmnalegRanch will be AKC, CKC, or ACA registered, unless otherwise stated.
The puppies will have received their first shots and multiple wormings before they are ready to go to their new homes at 8 weeks of age, as required by state law.
The mission of ArmnalegRanch is to provide families with happy, healthy, and well-socialized puppies that come with a 3-year genetic health guarantee. The dedicated team at ArmnalegRanch is committed to ensuring that each and every puppy that leaves their kennel is the perfect companion for its new family.
They are proud to offer a guarantee that the puppies will be free from any genetic health issues for the first three years of their life.
3. Harman Corgis
Harman Corgis is Corgi breeder in Texas, specializes in raising Pembroke Welsh Corgis with love and care. Located on a farm in the Texas Panhandle near Perryton, the breeder not only raises show pigs but also trains and socializes their Corgis to help around the farm.
The Corgis are well-adjusted to living with people, livestock, horses, and cats. The breeder aims to raise healthy and well-structured Corgis with good dispositions that will make loyal and loving companions.
The Corgis have the benefit of running and playing on the farm, and also have a climate-controlled environment to relax in when the weather is extreme.
The breeder also takes genetic testing seriously and uses Embark to test the parents for common genetic diseases such as DM, vWD1, and EIC to ensure that no puppies are born at risk.
4. Highbrow Corgis
Highbrow Corgis (AKC Corgi Breeder) used to heavily participate in showing horses, along with dogs, but have now shifted their focus to dedicating basically all of their time to their dogs.
They partake in showing, breeding, and dog sports, primarily showing in AKC and UKC conformation, herding, lure coursing, barn hunt, and dock diving. In addition to the trials, they enjoy a variety of activities with their dogs, such as hiking, biking, swimming, camping and traveling.
They place a great emphasis on health testing their dogs before breeding and prioritize temperament in their breeding decisions. Their goal is always to produce puppies that are better than the previous generation, with the intention of bettering the breed.
The puppies are born and raised in their home, handled daily, and come to their new owners well-socialized, well-started on crate and house training, vet-checked, and up-to-date on vaccinations and deworming.
5. LeMitris Corgis
We take great pride in raising quality Pembroke Welsh Corgi puppies that you and your family will enjoy!
We are a husband and wife team. Lexi is a vet tech for an Animal Clinic in Houston and Dmitrii has his own business in Internet marketing. We got the name for our kennel by combining our names and it turned out very well!
Each of our dogs is a member of our family. We have no human children yet, but that doesn't mean we don't call ourselves parents. And, when you get a puppy from us, you become a part of LeMitris Family too!
The LeMitris Family is growing quickly, we have get-togethers, parties, puppy-sit each other dogs and more!
6. Ranch Hand Corgis
Ranch Hand Corgis are responsible Pembroke Welsh corgi breeders with two locations; one in Texas and one in the heart of the Midwest.
Their goal is to raise quality AKC Pembroke Welsh corgi puppies while placing extreme emphasis on raising happy and healthy pets that will become a part of your family.
They raise their puppies in their homes as part of their family; they come to you very well socialized. They work with them from the beginning, so they will be socialized with many people and many different animals.
(Puppies do not get shipped). Our puppies come to you with all vaccinations current, dewormed and with a health guarantee. We prefer to hand deliver our puppies to their new families and establish a working friendship for future purchases and referrals.
7. Hat Creek Corgis
Hat Creek Corgis have been breeding since 1998. They have many wonderful success stories and amazing reviews.
They love Corgis and helping prospective new parents find that perfect corgi puppy. Their Sires are a part of their family and they carefully handpick each one to ensure they produce the finest corgi puppies available for you.
They want an excellent temperament with beautiful color, crisp distinct definition, strong bone, nice square head, good top-line, ear set and wonderful personality. All their males are genetically tested.
They believe in continuing on with the betterment of the breed to ensure amazing well-rounded corgi puppies that make superior pets.
Essential Questions To Ask Breeders
Before contact or visiting a breeder it's crucial to have in mind the most important questions you need answers to.
The question below will give you all the info you need on the puppy's health, current vaccination status, parents, training and socialization, certifications, pedigree, and gaurantees of the sale.
Keep in mind, reputable breeders will have no problem answering these questions and should have all of this information to hand.
Top questions to ask:
Can I see the puppy's parents, and their health clearances?
What is the puppy's health guarantee?
How has the puppy been socialized and exposed to different people and environments?
Has the puppy received any vaccinations or veterinary care?
How has the puppy been trained or exposed to basic obedience and house training?
Are there any genetic or inherited health conditions in the puppy's bloodline?
Can I have the contact information of previous puppy buyers for reference?
What type of support can I expect from the breeder after bringing the puppy home?
Is it possible to return a puppy after the sale (if so, under what conditions)
Thanks for reading! Back to more Corgi articles
Disclaimer
Before making any decisions that could affect the health and/or safety of your dog, you should always consult a trained veterinarian in your local area. Even though this content may have been written/reviewed by a trained veterinarian, our advice to you is to
always consult your own local veterinarian in person
. Please read our
full dislcaimer
if you have any questions.