As a way to bring you the best content that's informative, accurate, and safe, our articles are carefully assessed and reviewed by qualified veterinarians.
The Puppy Mag chooses to take this extra step so you can be confident in the articles that you are reading.
Articles written or reviewed by one of our veterinarians will be tagged at the top of the post.
*Tagging currently in process, may not display across whole site.
Please remember that you may still be required to take your furry friend to your local veterinarian for a proper health check-up.
Our articles can provide you with a solid understanding but should not be used as a replacement for professional advice from your local vet.
---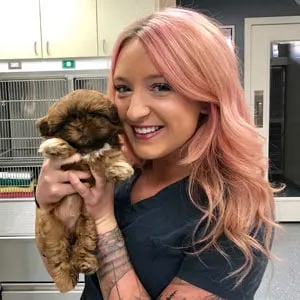 Amber LaRock
Licensed Vet Tech
Amber is a Licensed Vet Tech with 10 years of experience in veterinary medicine, specifically in emergency and critical care. After gaining her degree in veterinary technology along with her license, she began work in an emergency animal hospital. Amber writes and reviews articles on The Puppy Mag, IHeartDogs, Love Your Dog, A-Z-Animals, Emergency Vets USA, Sit Stay, and more!
Amber's LinkedIn, TikTok, Instagram
Dr. Linda Simon
Veterinary Surgeon
Dr Linda Simon MVB MRCVS is a locum veterinary surgeon who has worked in London for the past 8 years. She graduated top of her class in small animal medicine from UCD, Dublin. She is currently a member of the Royal College of Veterinary Surgeons. As well as working in clinic, Linda is an online vet for Just Answer where she has been providing online advice for thousands of owners since 2018.

Linda has worked with numerous high-end publishers and vet websites including:
The Puppy Mag, Woman Magazine, Vet Help Direct, Dog Zone, CVS Veterinary Group, and Wag Walking!