Dobermans are such a striking breed, they deserve an equally awesome name to suit them.
We've dug around and come up with 301 of the most unique, cool, and catchy names for both female and male Dobermans.
We've also included the meaning behind each name. If you're interested.
In this article:
Choosing The Best Name
50 Tribal-Inspired Doberman Names
100 Unique FEMALE Doberman Names
100 Cool MALE Doberman Names
Choosing The Best Name For Your Doberman
Things to consider when choosing a name for your Doberman:
Uniqueness
How easy it is to say
It's length
What you'll likely shorten it to (if it isn't short enough)
What it sounds like when you shout it!
The meaning behind the name
Considering those things will help owners choose a great name. There will be times you need to shout the name out at the dog park (so consider what that sounds like) as well as the names true meaning, and any likely nicknames that will come.
Nevertheless, the names below are all easy to say, unique, and have amazing meanings.
50 Tribal Inspired Names For Dobermans
Akita – a breed of dog native to Japan
Apache – a Native American tribe
Asha – means "hope" in Sanskrit
Atikah – means "kind" or "generous" in Arabic
Atka – means "friend" in Inuit
Ayasha – means "little one" in Native American
Bira – means "worthy of trust" in Native American
Cheyenne – a Native American tribe
Dakota – a Native American tribe
Denali – means "the high one" in Inuit
Enkoodabooaoo – means "one who lives alone" in Native American
Etsi – means "deer" in Cherokee
Gizmo – means "gadget" in Native American
Haida – a Native American tribe
Hozho – means "beauty" or "harmony" in Navajo
Iroquois – a Native American confederacy
Koda – means "friend" in Native American
Kola – means "friend" in Native American
Lakota – a Native American tribe
Lenape – a Native American tribe
Makwa – means "bear" in Native American
Mika – means "tiny" or "little" in Native American
Nokomis – means "grandmother" in Native American
Onawa – means "wide awake" in Native American
Orenda – means "power" or "mystic force" in Iroquois
Osage – a Native American tribe
Pakwa – means "animal" in Native American
Pawnee – a Native American tribe
Pequot – a Native American tribe
Pima – a Native American tribe
Quinault – a Native American tribe
Rakuten – means "hope" in Native American
Sable – a type of black-colored animal
Sakima – means "chief" in Native American
Sequoia – a type of tree native to California
Shasta – a mountain range in California
Sika – means "deer" in Native American
Sikyatki – a Native American village
Suki – means "beloved" in Native American
Tala – means "wolf" in Native American
Takoda – means "friend to everyone" in Native American
Tazhi – means "deer" in Native American
Tikaani – means "wolf" in Native American
Tiwakan – means "sentry" in Native American
Tonto – means "wild one" in Spanish
Tsiyah – means "white" in Native American
Tuxa – means "wolf" in Native American
Wapiti – means "elk" in Native American
Weshki – means "new" in Native American
Willow – a type of tree
Yuma – a Native American tribe
New & Popular: Why Do Dobermans Lean & Sit On Their Owners?
100 Unique Female Doberman Names
Akai: meaning love and affection (in japanese)
Addie: noble and kind
Agatha: good and kind
Alice: noble
Annie: graceful and favored
Aurora: dawn
Belle: beautiful
Bess: consecrated to God
Betsy: consecrated to God
Birdie: little bird
Blaire: plain or field
Bonnie: pretty, charming
Bree: strength or virtue
Brooke: stream
Burt: bright, shining
Callie: beautiful, attractive
Cammy: crooked nose
Cara: friend
Care: free man
Carla: free man
Casey: brave in war
Cassie: unheeded prophetess
Catie: pure
Cece: blind
Chad: warrior
Cher: dear, beloved
Clara: bright, shining
Cleo: glory
Colie: victory of the people
Daisy: day's eye
Dana: wise
Dara: compassionate, wise
Darby: free man
Dave: beloved
Deb: bee
Delilah: amorous, flirtatious
Delly: noble, kind
Dena: valley
Dina: judged
Dixie: tenth
Dolly: gift of God
Dom: belonging to the lord
Dona: lady
Dora: gift
Drew: manly, brave
Edie: prosperous in war
Elle: sun ray
Elsie: pledged to God
Emmie: work
Essie: star
Ettie: home ruler
Eva: giver of life
Evie: life
Faith: trust, belief
Fay: fairy
Fern: green and graceful
Flo: flourishing, bloom
Fran: free
Gay: joyous, merry
Gene: well-born, noble
Gigi: noble
Gina: well-born, noble
Glad: cheerful, lively
Glo: glowing
Gracie: graceful
Greta: pearl
Gwen: fair, white
Hal: ruler
Hedy: sweet, pleasant
Helen: light
Henny: home ruler
Hetty: home ruler
Holly: the holly tree
Hope: optimism
Ida: work
Ina: home ruler
Issa: God is salvation
Juna: Goddess to juno
Jalia: Important and attention-worthy
Jean: God is gracious
Jen: fair, smooth
Jess: God beholds
Jett: jet black
Jill: youthful
Jinny: fair
Jazz: Inspired by jazz music
Joy: happiness
Jude: praised
Judy: praised
Kate: pure
Katie: pure
Kay: rejoice
Kelly: warrior
Kim: ruler
Kit: pure
Kym: ruler
Lark: songbird
Lila: night
Samira: friend of the night
Zula: brilliant and "ahead"
100 Cool Names For Male Dobermans
Ace: one, unity
Aiden: fiery one
Alex: defender of the people
Ali: noble, elevated
Andy: manly, brave
Arlo: fortified hill
Ash: ash tree
Axel: father of peace
Ben: son of the right hand
Blake: dark, fair
Blue: the color blue
Bob: bright, shining fame
Brad: broad, wide
Brody: ditch
Bruno: brown
Bud: messenger
Cal: bald
Cam: crooked nose
Carl: free man
Chad: warrior
Chip: diminutive of Charles
Chris: anointed
Clay: a clay worker
Cody: helpful
Cole: coal, dark
Conor: lover of hounds
Corey: hollow
Craig: rocky hill
Dana: wise
Dante: the enduring one
Dave: beloved
Dean: valley
Drew: manly, brave
Ed: wealthy protector
Emilio: rival or "eager"
Eli: ascension
Evan: God is gracious
Finn: fair or white
Frank: Frenchman
Fred: peaceful ruler
Galio: gift of god
Gary: spear
Gene: well-born, noble
Geo: farmer
Gil: joy
Glen: narrow valley
Gray: gray-haired
Hal: ruler
Hank: ruler of the household
Haro: army ruler
Hugo: a healthy mind
Ink: Meadow by a river
Juno: Queen of heaven
Jake: supplanter
Julius: julius ceaser
Jay: blue jay
Jeff: divinely peaceful
Jerry: spear ruler
Jim: supplanter
Joe: God will add
Jasper: Treasurer
Jose: God will give
Jules: youthful
Justin: just, fair
Kane: warrior
Keith: wood
Kell: stream
Ken: handsome
Kevin: gentle birth
Kim: ruler
Kirk: church
Kyle: narrow, strait
Lance: servant
Larry: crowned with laurels
Lee: meadow
Len: lion
Leo: lion
Liam: strong-willed warrior
Lin: lime tree
Lou: famous warrior
Luke: light
Mateo: gift of God
Max: the greatest
Mike: like God
Milo: beloved
Neil: champion
Nick: victorious people
Noah: rest, comfort
Ollie: olive tree
Pete: rock
Phil: loving
Quinn: wise
Ralph: wolf counsel
Ranger: forest gaurdian
Ray: wise protector
Rex: king
Sulu: sun covered
Sage: wise or healthy
Taku: living for now
Zion: the highest point
Last Thoughts
Personally, our favorite names are definitely the tribal-inspired ones! They sound so cool, suit the Doberman's fierce looks and personality, and you don't often hear them!
Of course, there are no wrongs or rights when it comes to choosing a name for your Dobie. Go with your instincts and the name that clicks with you!
Let us know what you decide or if you have any other suggestions! We would love to add them here.
Thanks for reading! Back to more Doberman articles below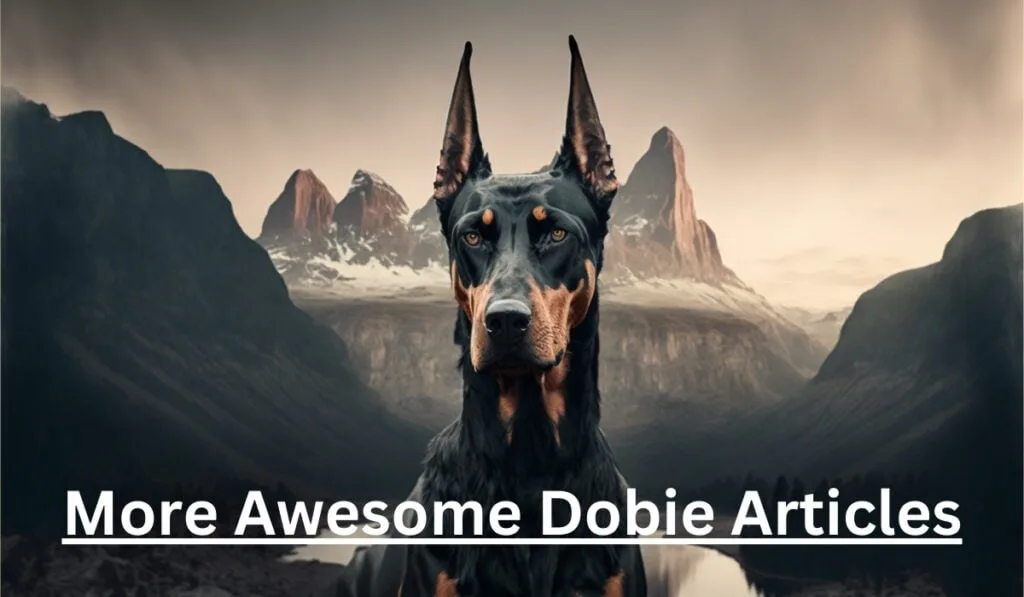 Disclaimer
Before making any decisions that could affect the health and/or safety of your dog, you should always consult a trained veterinarian in your local area. Even though this content may have been written/reviewed by a trained veterinarian, our advice to you is to
always consult your own local veterinarian in person
. For the FULL disclaimer
Visit Here